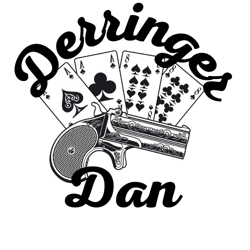 Merch Shop (More On The Way)
Welcome to the Derringer Dan Merch Shop, your ultimate destination for all things derringer-related! If you're a fan of the iconic derringer handgun and want to show off your passion, look no further. Our shop is dedicated to providing a wide range of high-quality merchandise that celebrates the timeless elegance and power of the derringer.
At the Derringer Dan Merch Shop, we understand the allure of this classic firearm, and we aim to capture its essence through our collection. From stylish apparel featuring derringer-themed designs to accessories that showcase your love for these iconic handguns, we have something for every derringer enthusiast. Whether you're a collector, a shooting sports enthusiast, or simply appreciate the historical significance of derringers, our merchandise allows you to proudly display your connection to these remarkable firearms. Explore our shop and embrace the spirit of the derringer with our exclusive range of products that combine style, quality, and a passion for all things derringer.